Skip to Content
Artificial Turf Installation in Orange County, CA
Always Green Solutions
Discover a synthetic lawn that looks fantastic all year long. In addition to feeling and looking nice, artificial grass is also ecologically beneficial. Artificial grass may significantly reduce your water usage and save thousands of gallons of water annually. Synthetic lawns are also child and pet friendly.
At Ocean Pavers Inc, we only work with the best installers of artificial turf, and we only use products that come with the greatest warranties in the business. Our installation teams will take all the necessary steps to bring your new drought-resistant artificial turf to life with our more than ten years of experience in the artificial turf business.
Learn more about the benefits of artificial turf, how we can help you, and why you should hire Ocean Pavers Inc for your services. When you're ready, call our team to get started!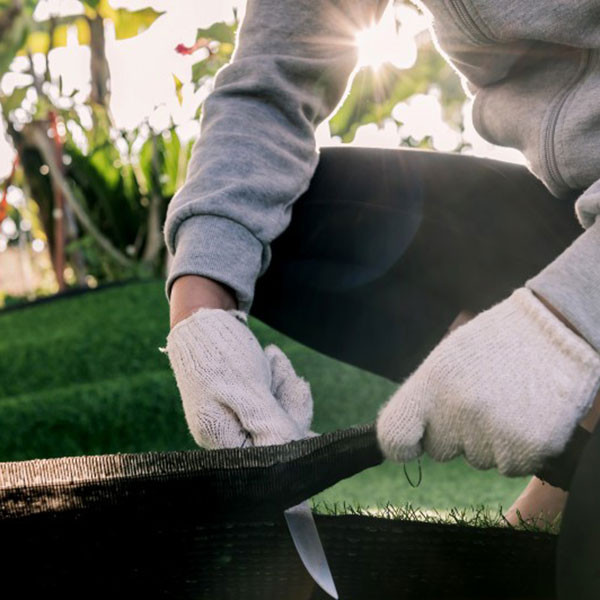 Benefits of Artificial Turf
For owners of homes and businesses, artificial grass provides a lot of advantages, especially in temperatures like those in Southern California. Among the most noteworthy advantages are:
Water-Free
Artificial grass is a water-free landscaping choice for Orange County property owners in Southern California since it doesn't need to be watered as regular grass does.
Easy Maintenance
Almost little maintenance is necessary with artificial grass. There is no need for fertilizing, reseeding, mowing, or watering.
Long Lifespan
Synthetic grass has a ten-year lifespan or more.
Economical
Despite having a greater initial investment than a conventional yard, artificial grass in Orange County, California landscaping might end up saving you thousands of dollars over its lifetime.
Frequently Asked Questions
Why Ocean Pavers Inc?
Offering the best pavers in Orange County, California, Ocean Pavers Inc. is a market leader in hardscaping solutions. We are experts in the hardscaping industry. Only the best candidates are selected for our staff. We have over 32 years of collective labor expertise in turf, masonry, and pavers. Our sales consultants will provide awe-inspiring design concepts for your home. We are committed to providing you with high-caliber services that are reasonably priced.
Every component of our company is created to wow customers and guarantee their complete satisfaction with the services we provide. We oversee both large- and small-scale landscape and hardscaping projects for residential and commercial clients throughout Orange County.
Contact us today to schedule your consultation!
Get a Free Quote on Your Next Project Today