Skip to Content
Synthetic Turf in Orange County, CA
A Pristine Lawn All Year Long
Artificial turf is growing in popularity as more homeowners learn to understand its many benefits. Local cities and even some counties see the economic advantages of turf that they're even offering rebates for homeowners who choose to install it as an eco-friendly alternative to grass. Ocean Pavers Inc offers premium synthetic turf in Orange County, CA, making the upgrade to a perennially beautiful, pristine lawn more affordable and sustainable than ever. Eliminate the constant expense of lawn maintenance by investing in synthetic turf.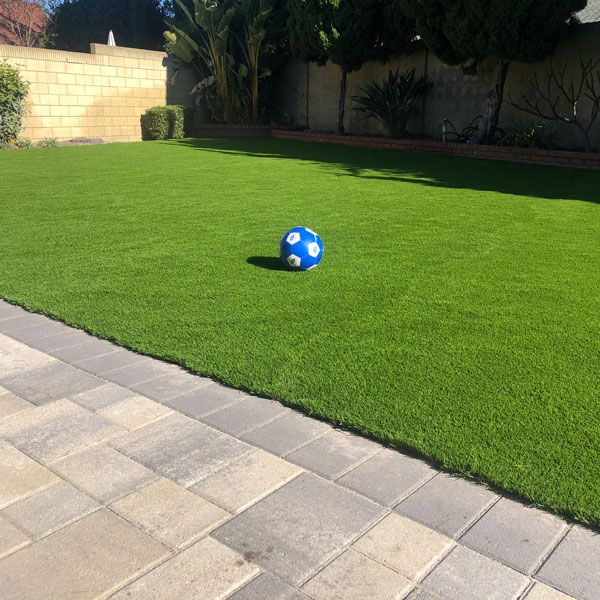 Why Choose Synthetic Turf
Synthetic grass is made from polyethylene, polypropylene, or nylon yarns. These materials are incredibly durable and are UV stabilized for minimal fading and deterioration. The yarn is tufted into a polypropylene backing cloth, then coated in a layer of urethane for maximum durability. Long story short – your lawn will remain pristine all year long with synthetic turf.
Low Maintenance
With artificial turf, there's no need for mowing, trimming, spraying for pesticides, or having to re-patch dead spots. Never worry about flooding or a muddy lawn. All turf installations come with appropriate drainage, so your lawn stays in top condition even through the rainy season.
Safe for the Sensitive
Those who might suffer from allergies to grass, mildew, mold, or chemical lawn treatments can find relief and spend more time outdoors with artificial grass. A yard with artificial turf significantly reduces pollen, and the turf is made with an antimicrobial infill. Synthetic turf is also wonderful for pets.
Eco-Friendly
Traditional grass lawns can require pesticides, insecticides, and fertilizers harmful to the environment and your health. Gas, electricity, and water are needed for traditional lawn maintenance. Synthetic grass requires none of these.
Sustainable Beauty
You want your lawn to look green and pristine all year long. Once synthetic turf is installed, the lawn's full beauty is realized, instantly increasing curb appeal and usable outdoor space.
Long-Term Financial Savings
With no sodding, seeding, or watering needed, you will instantly save hundreds of dollars a month in maintenance fees alone. Synthetic turf only needs to be installed once with no concerns of patching or replacing.
Artificial Turf + Authentic Craftsmanship = Real Savings
Ocean Pavers Inc is committed to transforming your outdoor living space into a truly unique and awe-inspiring landscape you can share and enjoy while helping fulfill our ambition of remaining environmentally conscious. We use only the highest quality materials and guarantee world-class craftsmanship, all at an affordable price. Turn your backyard ideas into reality and contact us now for a professional turf installation consultation.
Get a Free Quote on Your Next Project Today