Skip to Content
Walkway Pavers in Orange County, CA
Create the Perfect Invitation to Your Home
The path leading up to your front door reveals a lot about the style of the house you live in. The route leads trick-or-treaters to your door and serves as a festive entrance for visitors. It is a statement item that travels the front of your house to share a little of your tale with visitors as they approach your threshold. It is also utilized daily.
The construction of a paver sidewalk may make the walkway leading up to your home lively and bright and is significantly more elegant than conventional cement sidewalks. You can customize your design to fit the charm of your property by having expert paver pathways and sidewalks installed.
At Ocean Pavers Inc., we have years of experience designing and installing a wide range of beautiful and durable paver walkways for homes and commercial buildings throughout Orange County. Learn about how we can help you transform your entryway and sidewalks into beautiful, inviting structures that will last for years and improve your property's aesthetics and resale value. When you're ready, contact our team to schedule a consultation.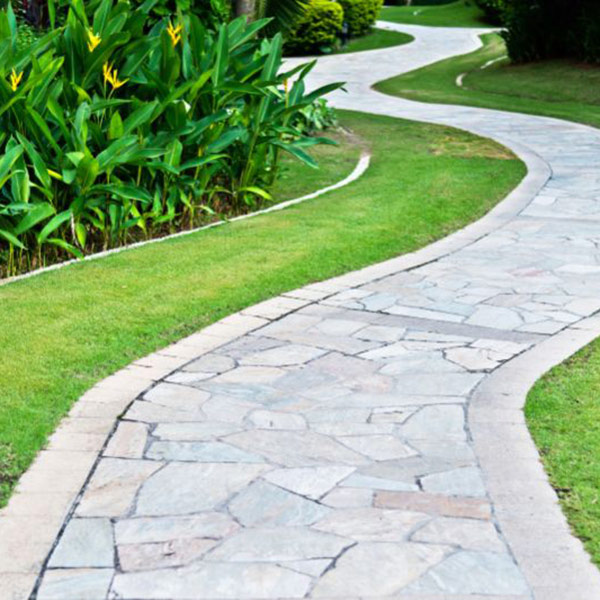 Benefits of Walkway Pavers
Aesthetics
Few other materials can match the degree of paver styles by Ocean Pavers Inc.. They are thus perfect for anyone who values having the freedom to arrange their outside area in any way they choose. To perfectly blend with the front of your house or landscape design, they are easily obtained in a variety of colors, patterns, and textures.
Low Maintenance
Pavers have a built-in resistance to stains (and can be made more so by sealing during installation). Most pavers may be restored to new condition with a short sweep and possibly a spray of soapy water. Additionally, unlike dealing with a slab of concrete, the ability to spot-replace pavers means that any problems, such as cracks, may be quickly fixed by substituting a single paver for another.
Durability
Because pavers have several joints, they may more easily adapt to the changing ground throughout seasonal expansion and contraction without cracking. Additionally, as a result of the pavers' improved ability to handle water runoff, your groundwater is organically replenished.
Ocean Pavers Inc. pavers are constructed to resist California's occasionally severe weather conditions. The course of your pavers won't be altered by a lack of moisture or rain, nor by the intense downpours that might occasionally hit us.
Why Choose Us?
When it comes to installing fire pits and walkway pavers in Orange County, we are the go-to company. We pledge to provide you with unsurpassed quality, complete integrity, and affordable prices. Pavers are a classy and cost-effective method to improve your home's aesthetics, and they are well worth the investment. Because of their beauty, paving stones have become the norm nowadays, although they are anything but delicate. Because paving stones are durable, your walkway will benefit from them for many years to come. Enjoy beautiful, strong, and low-maintenance walkway pavers all around your property.
Schedule Your Consultation
Your project is important to us from beginning to end. We vow to do our business in an honest and fair manner. We want you to be happy with the quality of our work. We will try our best to fulfill your request, considering any inherent flaws in the items we use, such as color variations and manufacturing irregularities. Our team is covered by workers' compensation. We adhere to all CSLB regulations in California. Yelp and Angie's List both list us. We hold a Class B General Contractors License 956858 and a Pavers D06 Specialty License. To bring your outside landscape to life, get in touch with us today for a consultation.
Get a Free Quote on Your Next Project Today