Skip to Content
Outdoor Firepits & Fireplaces in Orange County, CA
Custom Residential & Commercial Firepit Installations
Fire pits don't have to be boring steel containers or piles of rocks anymore. There are practically endless possibilities when designing a new fire pit with contemporary flair and a little imagination. We at Ocean Pavers Inc. like constructing fresh, interesting, and inviting outdoor spaces for you, your family and friends, or your employees and guests to enjoy. We're currently designing and installing all types of firepits and fireplaces for clients throughout Orange County, CA.
Our staff produces one-of-a-kind outdoor fire pits and fireplaces to serve as accent pieces to your home's backyard and living area or as a focal point for your business's patio using innovative design services and distinctive, high-quality materials.
Creating a lovely, natural fire pit for your yard can completely change the way your property looks and feels. Everyone enjoys cuddling up next to a smoldering fire on a cold night, and with Ocean Pavers Inc.'s professional fire pit design and installation services, you can have a unique feature to increase the luxury and comfort of your home or business.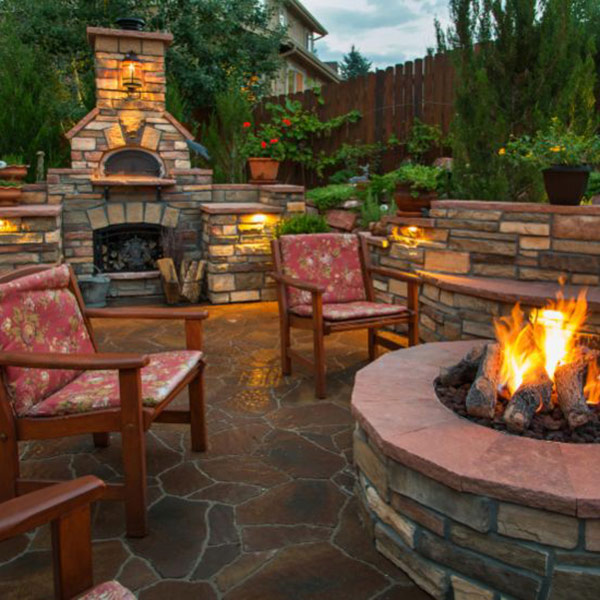 Building Your Own Fire Pit
There are many aspects to consider when designing and building your fire pit. We're always here to help you through every step of the way. When putting together what you want in your fire pit, consider these parts of the installation process:
Materials
We can assist you in choosing the material for your fire pit based on your property and budget. Natural stone, brick, and other materials are some of the most popular choices of materials among our clients.
Location
Consider your property's layout and the location of your fire feature. You can choose a more straightforward design or make it the centerpiece of your yard, surrounded by a water feature.
Decoration
Think about accessories and other additions you want to make around your fire pit. Where will guests sit? What kind of activities do you want to do around it? Do you want benches or tables? All of these questions can help you shape your space.
Benefits of Outdoor Fireplaces
Open fire pits provide a low-profile appearance that won't obstruct any of your property's sightlines. A fire pit can be a better option for you if you have a stunning view that you don't want to block. In addition to accommodating more people than a fireplace, fire pits are typically the least expensive choice.
Fireplaces also offer advantages of their own. They are ideal for smaller or more private events and are a safer alternative to an open fire for young children. Because there is more structure to deal with when designing a fireplace, there are also more design alternatives available.
Why Ocean Pavers Inc?
We are the top choice in Orange County for outdoor fireplace and fire pit installations and superior masonry services. We are committed to offering you unmatched quality, total integrity, and reasonable pricing while also benefiting from their skilled masonry work and quick design and installation. Outdoor fire pits and fireplaces come second nature to us due to requiring masonry and paver expertise. Call us today to schedule your consultation. We'll go over design, size, accessories, location, and budget to give you the best idea of what you can transform your outdoor space into.
Get a Free Quote on Your Next Project Today