Skip to Content
Make Your Pool Deck the Centerpiece of Your Yard
No swimming pool is complete without a pool deck. Paving stones installed around your pool can create a striking focal point for your yard. Pool deck pavers are an excellent choice for any in-ground pool or above-ground pool because of their great flexibility and customizability. Ocean Pavers Inc offers premium pool deck pavers in Orange County, CA. Let us help you create an elegant, welcoming environment around your pool area with our world-class paving stone system.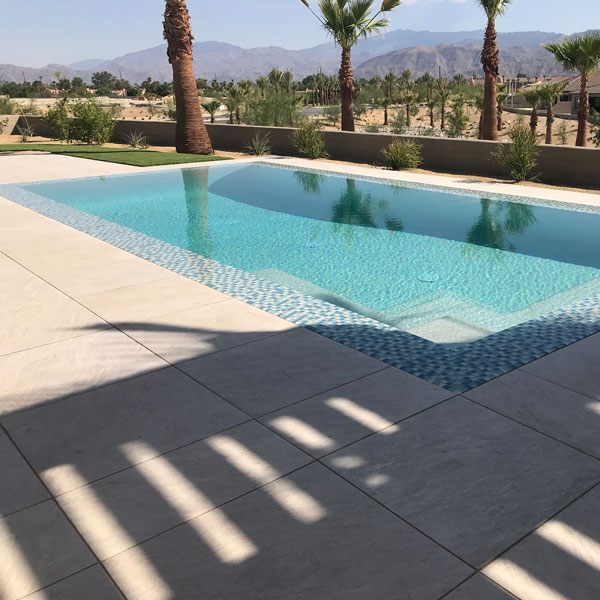 Why Pavers?
Paver Colors: You can choose from many color blends to complement your patio and backyard theme or design.
Patterns: You have unlimited choices of pavers patterns, which will add to the beauty of your deck more than regular poured-in-place concrete.
Crack Resistant: Concrete pavers are a great choice over the alternative – poured concrete – because it does not crack over time. These cracks are both unsightly and create a safety hazard.
Slip Resistant: Pool paving stones are easy on the feet and rough enough to provide enough friction to prevent someone from slipping on them.
No More Mastic: Pavers are installed directly to the coping, so there is no more need for expensive mastic. Pavers do not expand and contract like poured-in-place concrete.
The Benefits of Pool Deck Pavers Will Make a Splash
Installing swimming pool pavers can be tricky because working around a pool presents difficulties other projects do not. So it's crucial to hire a team of professionals to manage the intricacies of the installation process to ensure complete accuracy. Our team's experience and craftsmanship will handle all the considerations of a fully functional pool area, including grading, slope, sealer stabilization, drainage, pool coping, and more – helping you save time and money in the long run. So let us make the most out of your investment, and you will enjoy the many advantages of an Ocean Pavers Inc pool deck.
Get a Free Quote on Your Next Project Today