Skip to Content
Pool Deck Pavers in Orange County, CA
Custom Pavers for Your Pool Area
Without a pool deck, no pool is complete. A remarkable focal point for your yard may be made with paving stones laid around your pool. Due to their extreme versatility and customizability, pool deck pavers are a fantastic solution for any in-ground or above-ground pool. In Orange County, California, Ocean Pavers Inc. provides high-quality pool deck pavers. Use our top-notch paving stone system to surround your pool area with an attractive, friendly atmosphere.
The best part about concrete pavers is that you have countless options for their colors, forms, sizes, and textures because they are a produced product. Your pool deck will be sturdy in addition to being gorgeous to look at. Learn more about pool deck pavers for your pool deck by Ocean Pavers Inc. When you're ready, contact our team to get started with a consultation.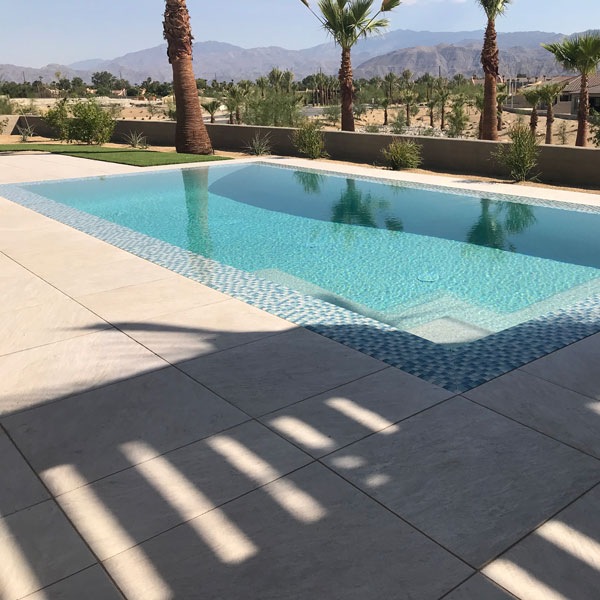 Reinforce and Sophisticate Your Pool Deck
The immediate area that surrounds the pool is known as the pool deck. The biggest and most popular trend in outdoor décor nowadays is pool decking. Your friends and family can rest, enjoy themselves, and swim in your backyard oasis. As a result, the pool deck becomes even more crucial to the layout of outdoor swimming pools. The area around the pool is secure and non-slip. In comparison to stone and wood decks, it may also offer a more durable surface.
Pool area users and homeowners can benefit from pool deck pavers used for outdoor pool area landscaping. The three basic materials utilized to construct these pool pavers are stone, brick, and concrete. The fact that these materials can endure the harsh impacts of chlorinated or saltwater pools makes them the finest choice for pool pavement.
Benefits of Pool Deck Pavers
There are many benefits of installing pavers for your pool deck and area.
Safety
Safety is one of the most important aspects of pool pavers. Pool deck pavers are utilized to give the pool area the correct texture and color. These pool pavers also offer a long-lasting non-slip surface and a strong resilience to wear and tear. Children naturally tend to play and run about on wet and slippery surfaces; therefore, safety is crucial. Pool paving stones are easy on the feet and rough enough to provide enough friction to prevent someone from slipping on them.
Durability
Pool deck pavers are durable enough to endure the effects of foot traffic, salt water, and water splashing. They are very simple to install, especially if no mortar is required to secure them. Because concrete pavers do not break over time, they are a superior option to the alternative, poured concrete.
Customizability
To match the concept or style of your patio and garden, you can pick from a variety of color combinations. Paver patterns are endless, and they will enhance the attractiveness of your deck more than standard poured-in-place concrete will. Your new paver pool deck will have the hues and designs you selected in precisely the arrangement spoken upon during the planning stage. It will surpass all of your expectations and give your swimming pool a new degree of attractiveness. Your creative opportunities are virtually endless when creating a paver pool deck. You have a wide range of options with pavers, from unique color combinations to personalized patterns, without having to worry about practical functionality.
Trust Our Team of Experts
A paver pool deck is a hardscaping project that is best left to experts. The best installation methods must be used because this surface will be subjected to heavy foot traffic and chlorinated water over the course of its lifetime. This will guarantee that the pavers drain effectively, settle within specifications, and stay in place even while the pool is continuously in use.
Our team's experience and craftsmanship will handle all the considerations of a fully functional pool area, including grading, slope, sealer stabilization, drainage, pool coping, and more – helping you save time and money in the long run.
About Ocean Pavers Inc.
Your project is important to us from beginning to end. We vow to do our business in an honest and fair manner. We want you to be happy with the quality of our work. We will try our best to fulfill your request, considering any inherent flaws in the items we use, such as color variations and manufacturing irregularities.
Our personnel are covered by workers' compensation. We adhere to all CSLB regulations in California. Yelp and Angie's List both list us. We hold a Class B General Contractors License 956858 and a Pavers D06 Specialty License. To bring your outside landscape to life, get in touch with us immediately.
Let's Get Started
Call our team today to schedule your consultation. We'll go over your design ideas, budget, pool size, timeframe, and more. From there, we can help you design and choose the perfect pool deck paver installation. We'll take it from there, installing your new pool deck to your specifications. Before you know it, you'll have a brand-new, beautiful, safe, and durable new pool deck for you to enjoy for years. It also will increase your home's resale value.
Contact our team today!
Get a Free Quote on Your Next Project Today