Skip to Content
Make Your Patio Your Preferred Living Space
Patio pavers are becoming the next great architectural and design element for outdoor construction. Ocean Pavers Inc offers premium patio pavers in Orange County, CA. Patio pavers allow home and business owners to extend their living and workspace to the outdoors, particularly in temperate climates like Southern California. Orange County residents have particularly embraced the revolution of using interlocking stone pavers to construct beautiful and useful patio areas complete with outdoor kitchens, relaxation areas, and even dining facilities. We can show you samples of our beautiful outdoor areas and help create a perfect design just for you. Let us transform your backyard into a beautiful, warm retreat you can share and enjoy.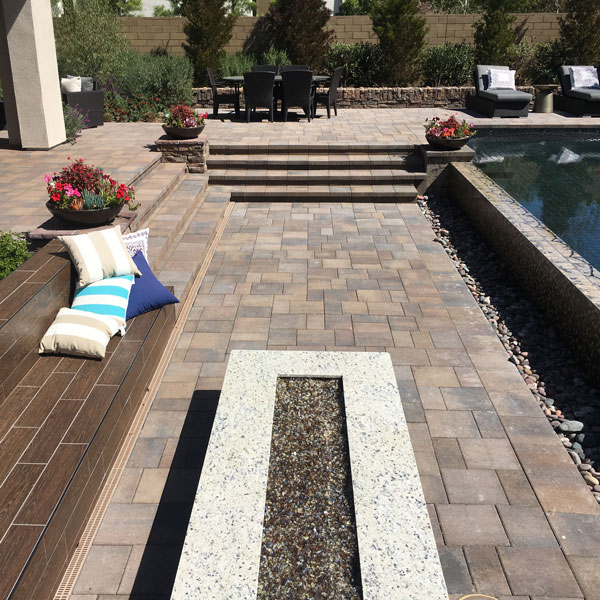 Why Pavers?
Pavers are an elegant and affordable way to enhance the aesthetic of your home, and they're certainly worth the investment. Your home will reap the benefits for years to come due to the sustainability paving stones have to offer.
Crack Resistant: Pavers are put together in an interlocking system that spreads the stress over a large area. Because these pavers are free to move slightly, they can absorb a great deal of pressure without cracking or breaking, unlike traditional asphalt and concrete.
Built to Last: Pavers can hold up to five times the weight of traditional concrete or asphalt without breaking.
Perfect Integration: We can incorporate interlocking pavers and other aspects such as walls, stone veneers, and other items into your landscape.
Easy to Install: Pavers can be installed relatively quickly and do not require concrete curing or drying time.
The Most Beautiful Patio You Will Ever Own
There is just no comparison between the beautiful patios created by Ocean Pavers Inc and traditional macadam or concrete construction. We offer more than 50 different colors and patterns to choose from so that anyone can make a unique and beautiful addition. We also have experience incorporating other outdoor design elements into patio landscapes, including landscape lighting and electricity, walls, dividers, planters, gas lines, sprinkler systems, landscape irrigation, and drainage systems. With breathtaking design and expert installation, your patio will be the talk of the neighborhood.
Get a Free Quote on Your Next Project Today