Skip to Content
Patio Paver Installations in Orange County, CA
Landscaping & Hardscaping Solutions
Transform your Orange County property with patio pavers by Ocean Pavers Inc.
No matter what time of year it is, having a nice patio can make spending time outside at home pleasurable. You may host parties on a balmy summer night or enjoy a crackling fire outside on a brisk fall evening with the right patio design. Superior patio pavers are available in Orange County, California, from Ocean Pavers Inc. In moderate regions like Southern California, patio pavers enable homeowners and business owners to expand their indoor and outdoor living and working spaces. The trend of building gorgeous and practical patio spaces with outdoor kitchens, rest places, and even dining facilities has especially caught the attention of Orange County residents.
Learn about our patio paver solutions and call our team to schedule your appointment.
Benefits of Patio Pavers
There are many advantages of installing pavers instead of concrete. Some of our favorite benefits include:
Affordability
Pavers are the ideal choice for your walkway because of their superior appearance, robustness, and affordability. Paver patios increase the value of your house and provide you with a selling advantage.
Durability
Pavers are quite resilient and, should a repair need occur, are simple to fix. The interlocking technique used to assemble pavers distributes the stress across a vast region. In contrast to conventional asphalt and concrete, these pavers are somewhat free to move, which allows them to withstand a lot of pressure without cracking or breaking.
Flexibility
Flexibility makes it more likely that temperature variations that might lead to expansion and contraction will have little to no impact on your property. Pavers can also hold up to five times the weight of traditional concrete or asphalt without breaking.
Customizability
Because there are countless possible patterns for how to place pavers, you can create a paver walkway that is unique to your property's aesthetics.
Low Maintenance
Pavers require just occasional hosing down to keep them looking clean and require very little care.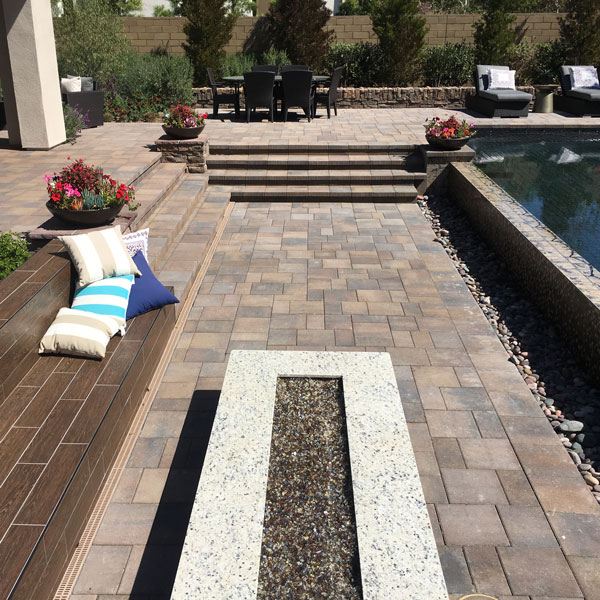 Unique Materials
Paver patio ideas can take on a variety of appearances, from straightforward brick to elaborate patterns or vibrant blocks. Some of the most popular choices for paver materials include:
Brick
Natural Stone
Travertine
Concrete
Patio Paver Design Tips
Incorporating your patio ideas into a design that not only complements your outdoor living style but also fits very well with your budget is possible if you follow some basic steps. Designing a custom paver patio may seem difficult and daunting at first.
There are a few topics you must consider when designing and investing in your patio.
Budget
The budget for your patio is most likely the most crucial element of your design project and is most likely the most challenging for a homeowner to determine. An outdoor living project's budget puts it into perspective, provides the designer with a point of reference, and helps to prevent any unforeseen costs.
Knowing the cost of a paver patio and any further enhancing suggestions or accessories, such as sitting walls, an outdoor fireplace, or even a grill station, can help you construct a budget. Fortunately for you, pavers are an excellent cost-effective way to organize your patio.
Functionality
How do you plan on using your patio? Do you like to entertain big parties? Do you have a large family? Do you love to grill and eat outside? It's important to consider all of these questions and more as you shape your patio. Additional items, such as fire pits, grills, outdoor bars, and furniture all influence how you will lay out your design.
Along with this, it's important to consider how you will navigate your patio every day. For example, if you love grilling, you want to position your grill area in a way that it's easy to bring out your steaks from your kitchen inside. Design your patio with functionality first, and the aesthetics will follow.
Aesthetics
What style do I want for my patio? You'll probably spend the most time on this one because it's the most enjoyable. A competent design will incorporate your concepts or extras into aesthetically beautiful geometry that enhances the home's architectural style. The most design versatility will be provided by brick or concrete pavers, so feel free to play with designs, sizes, and styles to match your home's aesthetic and style.
Contact Us Today to Get Started
There is just no comparison between the beautiful patios created by Ocean Pavers Inc and traditional macadam or concrete construction. We offer more than 50 different colors and patterns to choose from so that anyone can make a unique and beautiful addition. We also have experience incorporating other outdoor design elements into patio landscapes, including landscape lighting and electricity, walls, dividers, planters, gas lines, sprinkler systems, landscape irrigation, and drainage systems. With breathtaking design and expert installation, your patio will be the talk of the neighborhood.
Get a Free Quote on Your Next Project Today