Skip to Content
Outdoor Kitchens Ideas in Orange County, CA
Welcoming You to the Ocean Pavers Inc. Universe
Greetings from Ocean Pavers Inc., your local hardscaping specialist situated in the vibrant heart of Orange County, CA. We excel in transforming outdoor spaces, converting the ordinary into the extraordinary. Our services extend across meticulously crafted driveway pavers, establishing scenic stone and outdoor elements, constructing welcoming patio pavers, laying high-grade synthetic turf, designing relaxing pool deck pavers, bringing outdoor kitchen ideas to life, and delivering commercial and HOA services. Our mission is to create outdoor environments that delight your senses and serve as an extension of your indoor living areas, blending functionality with aesthetic charm.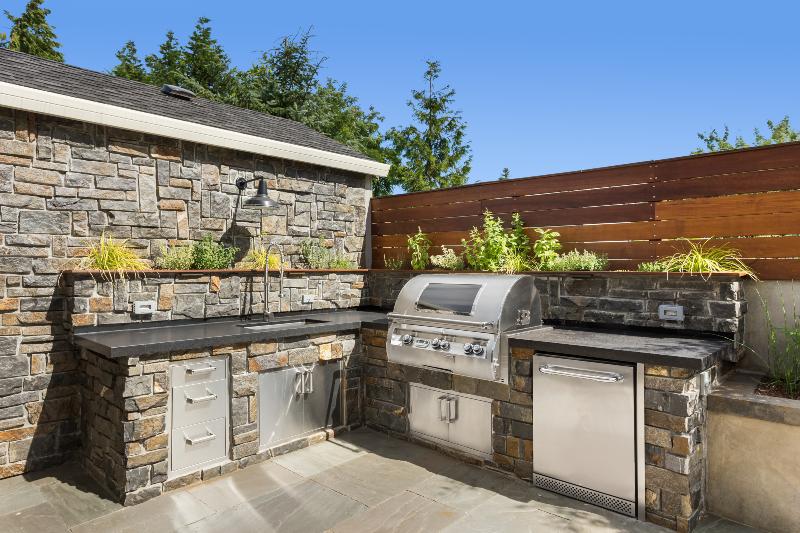 Decoding the Nuances of Hardscaping
Hardscaping, often overlooked, carries immense significance in shaping your outdoor spaces. It encompasses all non-living elements that contribute to your exteriors' functionality, aesthetic appeal, and long-lasting nature. These non-living elements can be composed of various hard materials such as concrete, brick, stone, wood, and other durable components. Our expert team specializes in various hardscaping services, including the delicate artistry of driveway pavers, the practical and visually appealing patio pavers, inviting pool deck pavers, and the outdoor chef's paradise—outdoor kitchens.
Breathing Life Into Your Outdoor Kitchen Dreams
As specialists in outdoor space transformations, we believe in the power of creative outdoor kitchen ideas. Outdoor kitchens aren't just about cooking; they're about creating experiences. They have the potential to transform your outdoor space into a luxury cooking and dining area, a hub of social interaction, and a sanctuary of culinary creativity. From small outdoor kitchens designed for intimate family meals to larger, modular outdoor kitchens ideal for lavish parties, our team can create designs tailored to your unique lifestyle. Stone outdoor kitchens are another of our specialties, combining strength, longevity, and timeless aesthetic appeal.
A Grand Array of Features & Amenities for Outdoor Kitchens
Ocean Pavers Inc. ensures that your outdoor space isn't just about looking good—it's about functionality, too. We offer a comprehensive range of features and amenities for outdoor kitchens, each selected to enhance your al fresco cooking and dining experience.
Grill Installation – Imagine the smoky, flavorful goodness of barbeque right in your backyard. Our professionally installed grills make that a reality.
Storage Solutions – No more running in and out of the house for utensils or ingredients. We provide dedicated storage areas designed for ease of use and convenience.
Countertop Designs – Our range of countertop materials blends style and resilience, adding to your outdoor kitchen's aesthetic and practical elements.
Freezers and Chillers – Keep your beverages and food perfectly chilled for those hot summer days with our range of freezers and chillers.
Outdoor Oven Installation – Enhance your culinary flexibility with a versatile outdoor oven, perfect for baking, roasting, and grilling.
Sink and Faucet Installation – A practical outdoor kitchen sink is a must-have for any outdoor kitchen, ensuring easy clean-up and efficient food preparation.
Garbage Bin Integration – Keep your outdoor kitchen spotless with strategically placed garbage bins that don't disrupt the aesthetic flow of your space.
Seating Arrangements – We don't just create cooking spaces; we build dining experiences. Our seating areas are designed with a balance of comfort, style, and functionality.
Lighting Fixtures – Set the mood and keep the party going into the night with our custom lighting fixtures.
Bar Setup – Be the host with the most with our fully-equipped outdoor bars, designed to impress.
Contact Ocean Pavers Inc.
Are you envisioning a transformation of your outdoor space? Whether you're dreaming of small, intimate outdoor kitchens or grand setups complete with every amenity you can think of, Ocean Pavers Inc. is here to make it happen. Our range of portable outdoor kitchens offers flexibility and adaptability, catering to various needs and lifestyles. Our goal is to redefine your outdoor living experience, making it a seamless extension of your indoor life. Don't wait another day to start creating your dream outdoor space. Contact us today, and let's take the first step together.
Get a Free Quote on Your Next Project Today