Skip to Content
Driveway Pavers in Orange County, CA
Enhance Your Curb Appeal With Driveway Pavers
Driveways can be much more than just a functional asset to your home. So give your driveway more style and purpose than just a level space to park your car – make it a work of art with Ocean Pavers Inc's premium driveway pavers in Orange County, CA. Our driveway paving stones will significantly enhance curb appeal and raise the property value of your home at a fraction of the cost of traditional driveway treatments. In addition, our world-class interlocking stone pavers system will add more elegance to your already-classy home, and the wide selections of styles, colors, and patterns will allow you to customize the look of your driveway thoroughly.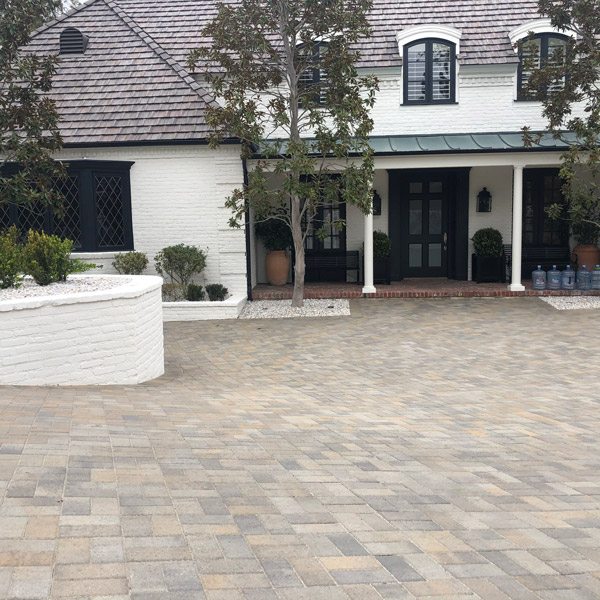 Why Pavers?
Pavers are an elegant and affordable way to enhance the aesthetic of your home, and they're certainly worth the investment. Paving stones are the modern standard because of their beauty, but they are anything but delicate. Your driveway will reap the benefits for years to come due to the sustainability paving stones have to offer.
Crack Resistant: Pavers are put together in an interlocking system that spreads the stress over a large area. They can absorb a great deal of pressure without cracking or breaking, unlike traditional asphalt and concrete.
Built to Last: Pavers can hold up to five times the weight of a traditional concrete or asphalt driveway without breaking.
Perfect Integration: We can incorporate interlocking pavers and other aspects such as walls, stone veneers, and other items into your landscape.
Easy to Install: Pavers can be installed relatively quickly and do not require concrete curing or drying time.
Traditional Driveways vs. Ocean Pavers Inc
Traditional driveways are made from various materials, but the most popular materials for permanent driveways are concrete and asphalt. Both materials have their benefits, but they both share a common problem: They are highly utilitarian and boring. Besides the obvious aesthetic issues, concrete and asphalt also tend to crack, making yearly maintenance a priority. Pavers eliminate the hassle of upkeep and minimize wear and tear. We offer a wide selection of pavers that will allow you to create any driveway you want. In addition, our professionals can work with you to design a custom driveway pattern that will complement your existing decorative and architectural themes and transform your yard and landscape into a beautiful, flowing visual treasure. We offer more than 50 colors that can blend to make almost any shade you like. We also have more than 50 standard patterns and can design modifications to suit your individual needs.
Get a Free Quote on Your Next Project Today