Skip to Content
Landscape Lighting Service in Orange County, CA
Your Trusted Partner In Outdoor Elegance
At Ocean Pavers Inc., our dedication to enhancing the beauty of outdoor spaces has won us a reputation of excellence in Orange County, CA. Our portfolio of services is diverse and comprehensive, including driveway pavers, stone and outdoor elements, patio pavers, synthetic turf, and pool deck pavers. We are not limited to residential spaces, as our proficiency extends to commercial and HOA properties. Our commitment to quality and customer satisfaction is unwavering. Through the artful use of light, we are capable of adding a magical touch to your outdoor spaces, resulting in an enchanting nocturnal environment that speaks of elegance and charm.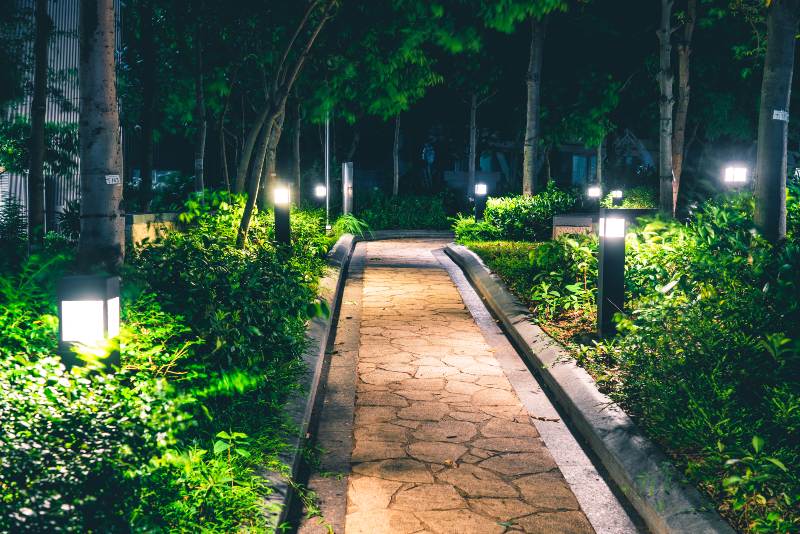 Bringing Your Landscape Lighting Ideas to Life
Landscape lighting might seem simple on the surface, but it's an intricate interplay of lighting fixtures and outdoor elements. Its essence lies in the careful placement of lights to enhance the beauty and functionality of an outdoor space once darkness falls. It's about the perfect balance between light and shadow, the tasteful illumination of a walkway, the highlighting of a water feature, or the enhancement of an architectural piece. With the right approach to landscape lighting designs, your yard, garden, or commercial space can take on a whole new level of beauty and appeal.
The Beauty of the Night – Landscape Lighting Experience
The world of outdoor spaces is replete with charm and allure during the day, but as twilight descends, there's a shift in ambiance. As daylight gives way to the soft glow of landscape lights, your outdoor spaces are transformed. The dramatic interplay of light and shadow brings a sense of enchantment, making your favorite garden elements come alive and lending a captivating aura to your outdoor living spaces. The result is a breathtaking nightscape that offers a fresh perspective on your property.
Shining the Spotlight on Landscape Lighting Benefits
While the aesthetic appeal of landscape lighting is undeniable, its benefits extend much further:
Boosting Property Appeal – A well-lit outdoor space significantly enhances your property's visual appeal, increasing its market value.
Safety and Security Enhancement – A landscape illuminated strategically reduces potential tripping hazards and deters unwanted intruders, contributing to a safer property.
Expanding Evening Enjoyment – With the right landscape lighting, your outdoor spaces become usable even after dark, offering extended hours of relaxation and entertainment.
Feature Highlighting – By positioning lights strategically, you can draw attention to specific elements like a statue, a beautiful tree, or a water feature, further enhancing the aesthetic appeal of your property.
Understanding Types of Landscape Lighting
Ocean Pavers Inc. understands that each landscape is unique and will benefit from a specific combination of lighting types:
Accent Lighting – This type of lighting focuses on a particular feature in your landscape, creating a dramatic and attractive effect.
Pathway Lighting – Essential for safety, this lighting guides visitors around your property by illuminating walkways and paths.
Deck and Patio Lights – These lights make it possible to enjoy your outdoor living spaces long after sunset, providing a warm and inviting atmosphere.
Security Lighting – Properly placed security lights improve the overall safety of your property and discourage potential intruders.
Solar Landscape Lighting – An eco-friendly lighting option that uses solar power, reducing your energy consumption and carbon footprint.
Low Voltage Landscape Lighting – A power-saving alternative that provides a warm, welcoming glow to your spaces, adding charm without escalating energy costs.
Contact Our Skilled Landscape Lighting Installers
At Ocean Pavers Inc., our services go beyond installing lights. We're passionate landscape lighting designers dedicated to crafting enchanting outdoor environments. We offer a vast array of landscape lighting ideas tailored to your property's unique features and your specific preferences. We specialize in low voltage landscape lighting and solar landscape lighting, providing you with energy-efficient solutions that are both eco-friendly and aesthetically pleasing.
We understand landscape lighting is a significant investment and are committed to ensuring you receive value for every dollar spent. By choosing us, you're choosing a partner who will listen to your needs, deliver exceptional designs, and execute seamless installations. Connect with us today, and let us light up your spaces with a touch of magic, transforming them into mesmerizing nocturnal wonderlands.
Get a Free Quote on Your Next Project Today